The New Division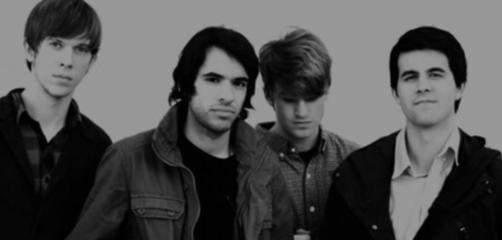 Few artists can top the sheer moodiness of '80s groups that teetered on the edge of post-punk and newly concocted electronic-pop. New Order and Depeche Mode are generally the most cited in this regard, and they are often the source of inspiration for revivalists of the movement today. These influences helped John Kunkel form the beginnings of
The New Division
out of his dorm room in 2005. "New Division" – the name an ode to New Order and its precursor Joy Division – shows the tremendous influence such groups had on his sound and others. The group turned into a four-piece by the end of 2006, and started playing throughout California to warm acclaim. The addition of Mark Michaslki actually gave The New Division two keyboardists, an edge that gave their live performances the type of depth that many electronic artists are unable to replicate on stage. Mirroring the key-driven emotional range of Brian Eno with an accessible rendering of '80s inspired electro-pop, their music has grown increasingly fascinating as they build their reputation. With the arrival of their new album,
The Rookie
, this year, The New Division have transformed their captivating live performances into a release just as infectiously moody as New Order, Depeche Mode, or – more accurately – Orchestral Manoeuvres in the Dark. Both nostalgic fetishists and seekers of the new and worthy will find something of value on The Rookie.
"Nocturnal" plays with effervescent synth twinkles and a roaring guitar akin to contemporary post-punk acts like ¡Forward, Russia!, with an approach of decreased harshness. Judging by the quick guitar swipes and bustling synths in the beginning, listeners may anticipate a heavier electro-rock sound comparable to White Rose Movement or She Wants Revenge. When Kunkel's relaxed vocals come into play alongside the swiftly synthesized variations, comparisons to more polished and mature electronic-rock acts like Cut Copy and Twin Shadow are apparent instead. The nod to groups like Depeche Mode and New Order are found particularly in the percussion, like the reverbed, hollow feeling of automated snares beginning at 02:45 being not too far from "Bizarre Love Triangle". The addition of guitars is accomplished in a more sophisticated and revised sense though. "Starfield", a track that was highly buzzed-about at the end of last year, is a lusher effort that showcases this well, along with the gratifying layers of synths. Their slow trickles help create an aquatic feel, the whirring of a synth-bass backing them continuously as a crisply sonorous guitar riff glides effortlessly along the plane. It's anthemic, not terribly predictable, and a creatively rewarding yet true-to-heart tribute to acts like New Order, Depeche Mode, OMD, and Echo & the Bunnymen, all of which continue to influence swarms of independent artists. The New Division are one of the finer examples.
RIYL: New Order, Depeche Mode, Joy Division, Orchestral Manoeuvres in the Dark, Brian Eno, Cut Copy, Twin Shadow, Echo & the Bunnymen, ¡Forward Russia!, Electronic, Monaco, The Human League
TIP:
Download The Rookie on GroopEase for a discounted rate.