Publicado originalmente em
http://stipe07.blogs.sapo.pt/235926.html
Finalmente terminou uma longa espera de três anos... Depois do bem sucedido Reservoir, o trabalho de estreia editado em 2009, chegou às lojas ontem, dia vinte e oito de fevereiro, através da Canvasback Music/Atlantic, Rooms Filed With Light, o segundo disco da banda londrina de pop folk Fanfarlo, liderada pelo carismático músico sueco Simon Balthazar.Rooms Filled With Light foi produzido por Ben Allen (Animal Collective, Deerhunter, Gnarls Barkley) e misturado por David Wrench (Bat For Lashes, Everything Everything) no Bryn Derwen Recording Studio, no País de Gales. A bela e abstrata capa é da autoria de Allison Diaz.
Algo que replico aqui algumas vezes, por ser hábito dizer-se no mundo da música, é a dita maldição do segundo álbum e que assombra quase sempre as bandas que conseguiram um suceso estrondoso na estreia, normalmente à custa da invenção de uma nova sonoridade. E os Fanfarlo têm, na minha opinião, a felicidade de terem produzido algo inovador comReservoir, encarnando nesse disco o mesmo espírito indie épico dos Arcade Fire, mas com uma sonoridade menos elétrica e mais folk. Esse disco acabou por ser um marco num ano que foi extraordinário e de definitiva afirmação para o cenário musical indie e alternativo.
Mudar essa fórmula de sucesso e que levou a banda a receber inúmeros e justos elogios da crítica, poderia ser uma jogada arriscada. No entanto, parece-me que estes ingleses Fanfarlotiveram a coragem necessária para testar uma nova estética sonora em Rooms Filled With Light, mas sem perderem demasiado a bússola que os orientou na estreia, o que me leva a questionar se a adopção de novas nuances sonoras na sonoridade dos Fanfarlo valeu o esforço, ou teria sido preferível um maior conservadorismo e produzir uma espécie deReservoir II. Singles como Deconstruction e Shiny Things, já conhecidos há várias semanas e que divulguei na altura, já apontavam para o caminho certo de consolidação da sonoridade intrínseca desta banda, feita com melodias hipnotizantes que conseguem misturar os mais inusitados instrumentos com incrível mestria, mas agora com a incorporação de alguns elementos eletrónicos, que serviram para adicionar um certo tempero, mas sem deixar de lado os belos arranjos que marcaram o disco de estreia.
Logo na abertura, com Replicate, disponível para download gratuito no sitio da banda, osFanfarlo assumem toda aquela energia contagiante e a alegria que habitualmente transmitem nas suas canções, feitas com violino, trompete e bandolim, mas agora transmitidas com mais cordas e sopros e a voz de Simon a fazer lembrar uma fusão britânica entre Win Butler e David Byrne. As músicas têm mais textura, são mais barrocas e contemplativas e sente-se mais a música clássica e o jazz e algum do eletropop dos anos oitenta. Simon escreveu grande parte das canções em Londres, mas depois foram trabalhadas pelo quinteto numa pequena casa perto do mar, com uma fabulosa paisagem a influenciar certamente o disco.
Se a primavera parece, infelizmente, ter chegado metereologicamente mais cedo, agora, numa mistura entre o épico e o contemplativo, chegou o primeiro disco do ano que nos relembra a alegria que é estar vivo para ouvir e testemunhar que os Fanfarlo dão, com esteRooms Filled With Light, mais um pequeno passo em frente no campo da excelência, onde residem desde Reservoir e com todo o mérito. Espero que aprecies a sugestão...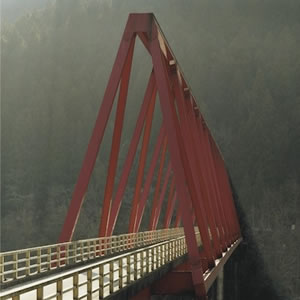 01. Replicate
02. Deconstruction
04. Shiny Things
05. Tunguska
06. Everything Turns
07. Tightrope
08. Feathers
09. Bones
10. Dig
11. A Flood
12. Everything Resolves