Publicado originalmente em
splitscreen
Destaques:
Estrada de Palha (
Estrada de Palha
)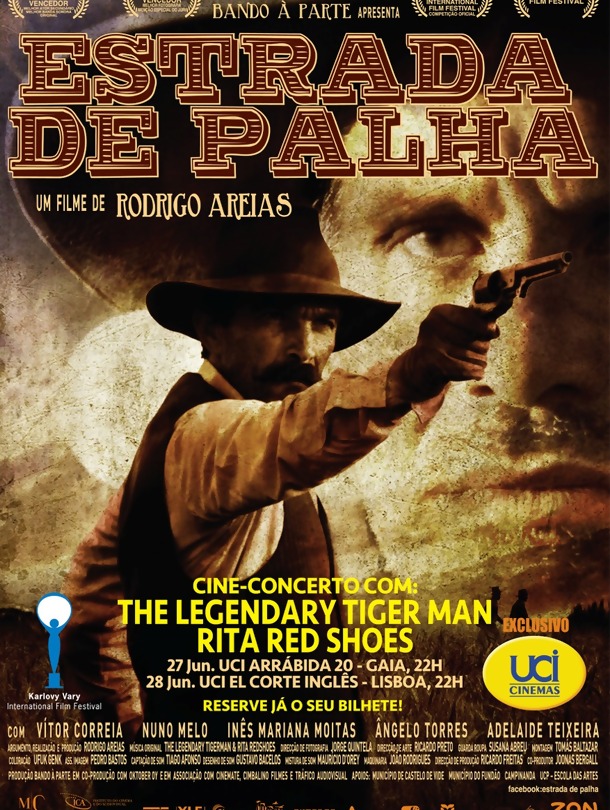 Ano: 2012
Realização:
Rodrigo Areias
Argumento:
Rodrigo Areias
Género: Western
Elenco:
Vítor Correia
,
Nuno Melo
,
Adelaide Teixeira
e
Inês Mariana Moitas
Neste "cine-concerto", levam para palco instrumentos mais ou menos usuais ("marxophone", "violin-uke" e até um berbequim) para dar música a estas projecções especiais do filme, que antecedem a chegada às salas de cinema. No final de cada espectáculo, o palco abre-se à conversa dos compositores e do realizador com o público. "Estrada de Palha" é uma espécie de "western" alentejano que decorre na primeira década do século XX. A história centra-se em Alberto, um emigrante que regressa à aldeia natal em busca de justiça e é confrontado com jogos de poder e corrupção.Outras sugestões:
Mais Uma Noite de Merda Nesta Cidade de Treta
(
Being Flynn
)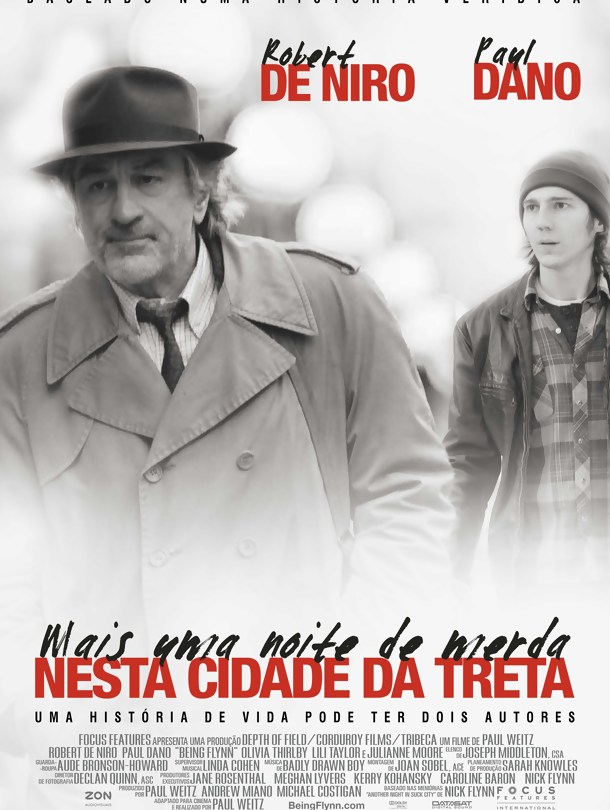 Ano: 2012
Realização:
Paul Weitz
Argumento:
Paul Weitz
Género: Drama, Comédia
Elenco:
Paul Dano
,
Robert De Niro
e
Julianne Moore
Nick Flynn (Paul Dano) é um jovem escritor de vinte e poucos anos que cresceu atormentado com afastamento do pai e que ainda não ultrapassou o recente falecimento da mãe (Julianne Moore). Jonathan (Robert De Niro), o pai, é um megalómano que sempre se autoproclamou escritor e poeta, apenas comparado a Mark Twain ou J. D. Salinger. Nick era ainda uma criança quando o pai abandonou a família e acabou preso por burla qualificada. Hoje, a trabalhar numa associação de apoio aos sem-abrigo em Nova Iorque, o seu caminho acaba por cruzar-se com o de Jonathan que, pelas circunstâncias e modo de vida irrealista, acabou por se tornar num indigente. Aproveitando a oportunidade que a vida lhes proporcionou, os dois vão empenhar-se em reencontrar o elo quebrado há quase 20 anos. Um filme dramático com argumento e realização de Paul Weitz ("Era Uma Vez Um Rapaz"), baseado em "Another Bullshit Night in Suck City", o livro de memórias de Nick Flynn.
A Idade do Gelo 4: Deriva Continental
(
Ice Age: Continental Drift
)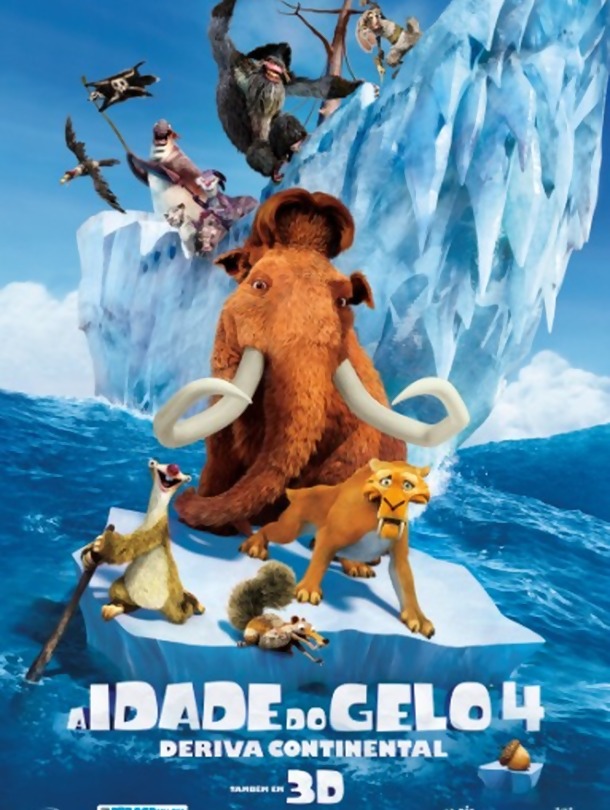 Ano: 2012
Realização:
Steve Martino
e
Mike Thurmeier
Argumento:
Michael Berg
e
Jason Fuchs
Género: Animação
Elenco de vozes:
Ray Romano
,
Denis Leary
e
John Leguizamo
Quando Scrat, o mais teimoso e persistente esquilo da História da Terra, desencadeia mais uma série de eventos cataclísmicos à escala planetária, Manny (voz de Ray Romano), Diego (Denis Leary) e Sid (John Leguizamo) são empurrados para mais uma perigosa aventura. Desta vez, à deriva numa ilha de gelo e separados do resto do clã, os três acabam capturados por um grupo de piratas mal-encarados decididos a impedir o seu regresso a casa. Pelo meio, Sid ainda encontrará os seus antepassados e Diego descobrirá o amor de Shira (Jennifer Lopes), uma linda tigre-dentes-de-sabre. Realizado por Steve Martino e Mike Thurmeier, é o quarto episódio da divertida saga "Idade do Gelo", iniciada em 2002, por Chris Wedge e Carlos Saldanha.
Agentes Secundários (
21 Jump Street
)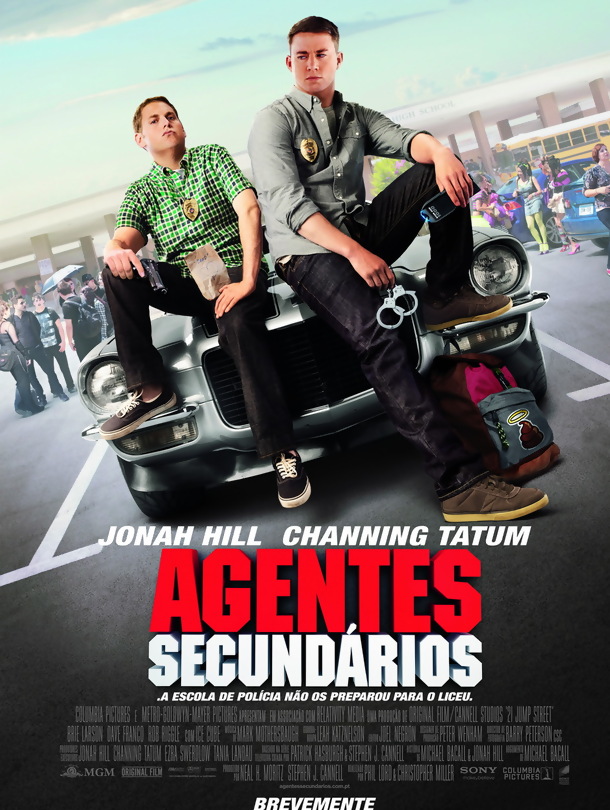 Ano: 2012
Realização:
Phil Lord
e
Chris Miller
Argumento:
Michael Bacall
e
Jonah Hill
Género: Comédia, Acção
Elenco:
Jonah Hill
,
Channing Tatum
e
Ice Cube
Morton Schmidt e Greg Jenko (Jonah Hill e Channing Tatum) eram, nos tempos de liceu, inimigos declarados: o primeiro era o típico marrão; o segundo, o engraçadinho da turma que gostava de ridicularizar os mais fracos. Quando, anos mais tarde, se encontram na academia de polícias, deixam para trás as divergências e acabam por se tornar companheiros de treino e de estudo. Apesar das grandes dificuldades a fazer a recruta, ambos acabam por conseguir terminá-la, mesmo sem grande reconhecimento ou mérito particular. Assim, acabam juntos como agentes secundários e enviados para a 21 Jump Street. A sua função é simples: dada a sua aparência jovem e imatura, são novamente matriculados no liceu onde tentarão controlar o tráfico de uma nova droga sintética que se está a vulgarizar entre os alunos. Para isso, vão ter de voltar a interiorizar o espírito adolescente e cumprir, com dignidade e distinção, a sua primeira missão. Uma comédia realizada pela dupla Phil Lord e Chris Miller ("Chovem Almondegas") baseada na série televisiva em voga nos anos 1980, criada por Stephen J. Cannell e Patrick Hasburgh, com Johnny Deep como um dos protagonistas.
O Moinho e a Cruz (
The Mill and the Cross
)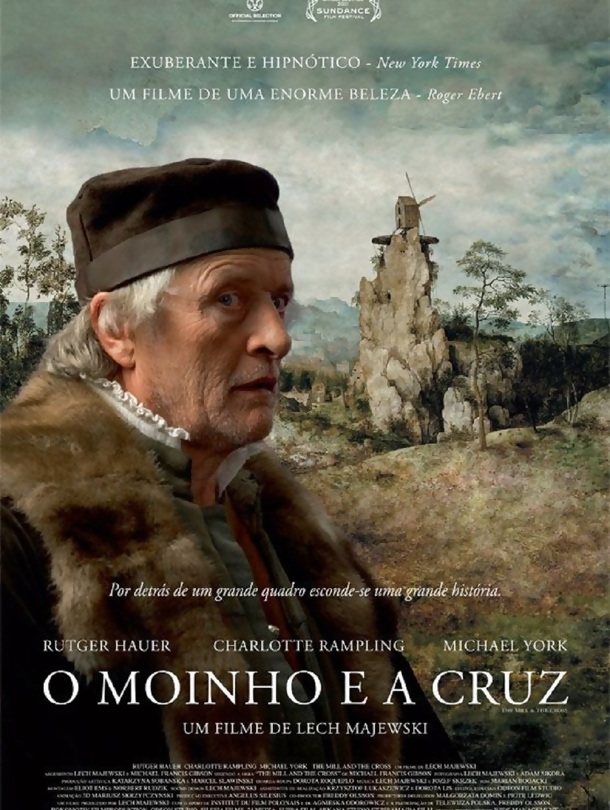 Ano: 2011
Realização:
Lech Majewski
Argumento:
Michael Francis Gibson
e
Lech Majewski
Género: Drama
Elenco:
Rutger Hauer
,
Michael York
e
Charlotte Rampling
Em 1564, Peter Bruegel (1525-1569) pintou "A Procissão e o Calvário", uma representação a óleo em tela com mais de 500 personagens, sob o tema da crucificação de Jesus e as perseguições religiosas em Flandres. Em 1996, mais de 400 anos depois, esse quadro deu origem à monografia "The Mill and the Cross", uma análise exaustiva à obra de Bruegel pelo reconhecido crítico de arte Michael Francis Gibson. Em 2011, o cineasta polaco Lech Majewski, inspirado por ambas as obras e utilizando cenários pintados conjuntamente com as mais recentes técnicas digitais, transporta para o grande ecrã a história de 12 daqueles personagens, num ambiente estilizado como se de um quadro a óleo se tratasse. Com argumento do realizador Lech Majewski e do académico Michael Francis Gibson, o filme conta com a participação dos actores Rutger Hauer, Michael York e Charlotte Rampling.
O Nome da Discórdia (
Le Prénom
)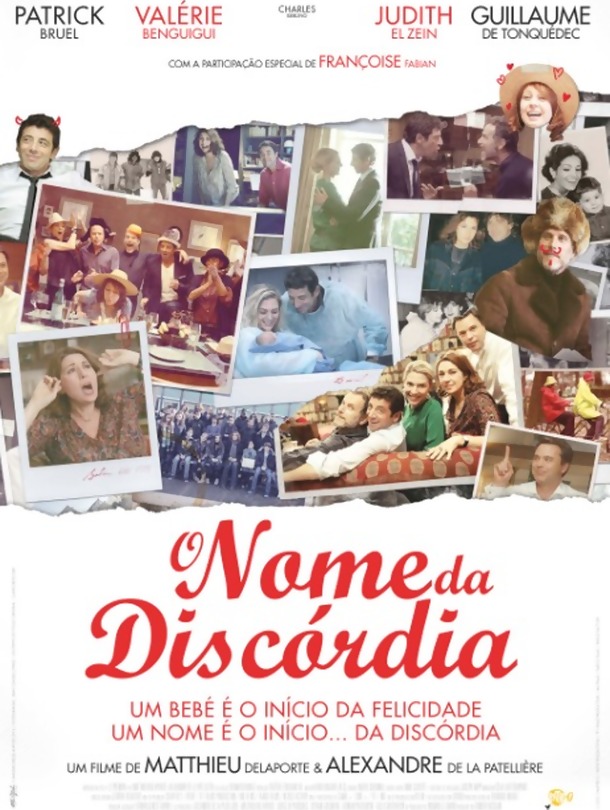 Ano: 2012
Realização:
Alexandre de La Patellière
e
Matthieu Delaporte
Argumento:
Matthieu Delaporte
Género: Comédia
Elenco:
Patrick Bruel
,
Valérie Benguigui
e
Charles Berling
Vincent é casado com Anna (Patrick Bruel, Judith El Zein) e, apesar de já ter passadoos quarenta, está extasiado com a ideia de se tornar pai pela primeira vez. Certanoite, os dois são convidados para um jantar familiar em casa da irmã e cunhadode Vincent. Porém, quando o futuro pai é questionado sobre o nome escolhidopara a criança, a sua resposta lança-os num autêntico caos familiar. Parapiorar, a presença de Claude (Guillaume de Tonquedec), um amigo de longa data,é tudo menos apaziguadora... Realizado por Alexandre de La Patellière e Matthieu Delaporte, uma comédia familiar baseada numa peça de teatro da autoria de Delaporte.
Ler mais:
http://splitscreen-blog.blogspot.com/#ixzz1zAlkR9F1